Toys have always been a popular form of entertainment for children. They provide not only hours of fun but also help in the development of their cognitive and motor skills. With technology becoming an integral part of our lives, it is no surprise that electronic appliances have found their way into the world of toys as well. These electronic toys not only entertain children but also educate them and stimulate their creativity.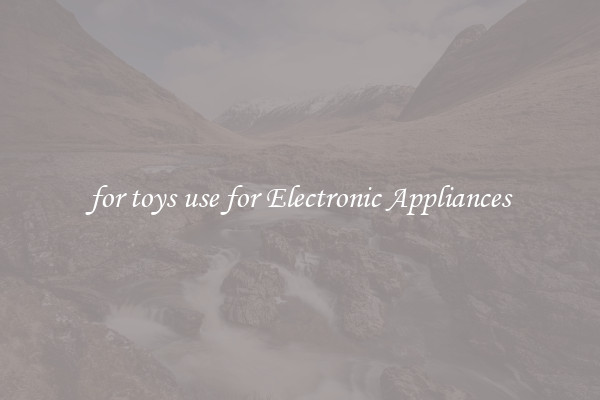 One of the most popular electronic toys in recent years is the interactive learning system. These toys often come in the form of tablets or handheld devices that are designed specifically for young children. They feature fun and engaging activities that teach them letters, numbers, shapes, colors, and other essential skills. They use a combination of colorful animations, sound effects, and touch screen technology to make learning enjoyable and interactive. These toys are a great way to introduce children to technology and prepare them for the digital world while also strengthening their foundational knowledge.
Another popular electronic toy is the remote-controlled car. These miniature vehicles can be controlled using a remote control device, giving children the thrill of driving their own car. They are perfect for indoor or outdoor play and promote hand-eye coordination, spatial awareness, and problem-solving skills. Apart from cars, there are also remote-controlled drones and helicopters that provide a more advanced level of fun and challenge for older children.
Electronic building sets are another innovative toy that combines traditional play with technology. These building kits include various components that can be connected together to form different structures or even robotic creations. They are often accompanied by a mobile application or software that enables children to control and program their creations, introducing them to the basics of coding and engineering. These toys encourage creativity, logical thinking, and problem-solving skills, making them an excellent choice for aspiring engineers and programmers.
Electronic pets are also gaining popularity among children. These interactive animals simulate the behaviors and sounds of real pets, providing children with a sense of companionship and responsibility. They can be fed, groomed, and played with, fostering empathy and nurturing skills in young children. Electronic pets are an excellent alternative for families who are unable to have real pets or for children who are learning how to care for animals.
In conclusion, electronic toys have revolutionized the way children play and learn. They provide endless entertainment while also imparting important skills and knowledge. From interactive learning systems to remote-controlled vehicles and electronic building sets, these toys are a perfect blend of fun and education. Introducing children to electronic toys at an early age can help prepare them for the digital world and foster their curiosity and creativity.