Innovative electrical plug converters have revolutionized the way we keep our devices powered, especially when traveling internationally. These compact and versatile gadgets have eliminated the need to carry multiple chargers or adapters for different countries, making our lives much more convenient. In this article, we will explore some of the most innovative plug converters available in the market today.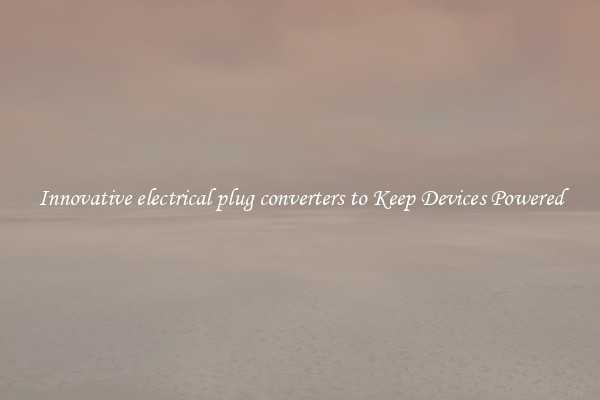 One of the most popular plug converters is the all-in-one universal adapter. This compact device provides compatibility with various electrical outlets used in different countries. It typically features a swappable design that allows you to connect it to different types of plugs, ensuring that you can charge your devices no matter where you are in the world. Some adapters even come with USB ports, enabling you to charge multiple devices at once.
Another innovative plug converter is the dual voltage converter. This device allows you to use your electronic gadgets in countries with different voltage requirements without the risk of damaging them. By converting the voltage to match that of your device, you can safely power it up without worrying about compatibility issues. This is particularly useful for travelers who frequently visit countries with varying voltage standards.
Furthermore, there are plug converters that incorporate advanced safety features. Overheating protection, surge protection, and short-circuit prevention are some of the safety measures often integrated into these innovative devices. These features not only safeguard your devices but also provide peace of mind, knowing that your gadgets are protected from potential electrical hazards.
Some plug converters also come with smart technology, allowing them to adapt to the specific charging needs of your devices. These intelligent converters can recognize the connected device and adjust the charging speed accordingly, ensuring efficient and optimized charging. This feature is especially useful for smartphones and tablets, which often have different charging requirements.
In addition to their functionality, the design of plug converters has also evolved over time. Many companies now offer sleek and compact converters that are easier to carry and store compared to their bulkier counterparts. Some manufacturers even offer travel pouches or cases specifically designed to hold these adapters, making them even more portable.
In conclusion, innovative electrical plug converters have provided us with a convenient solution for keeping our devices powered while traveling or living in different countries. Their versatility, safety features, and smart technology make them a must-have accessory for any tech-savvy individual. With the continual advancements in design and functionality, these plug converters will only become more efficient and user-friendly in the future. So, whether you're a frequent traveler or simply want to simplify your charging needs, investing in an innovative plug converter is definitely a wise choice.